Be encouraged! The word of God is living and active.
When you read scripture, it's like pouring life into your soul.
"A Fight to the Finish with the Armor of God"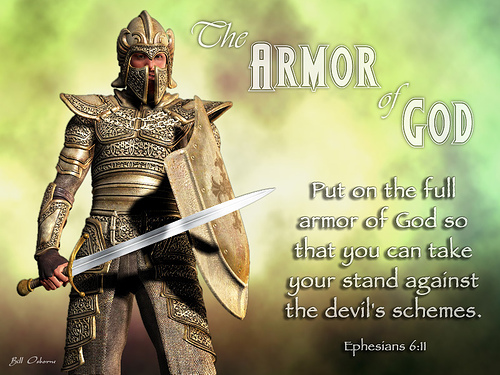 Ephesians 6:10-18 (NIV, The Message)
God is strong, and He wants you strong. So take everything the Master has set out for you, well-made weapons of the best materials. And put them to use so you will be able to stand up to everything the Devil throws your way. This is no afternoon athletic contest that we'll walk away from and forget about in a couple of hours. This is for keeps, a life-or-death fight to the finish against the Devil and all his angels.
Be prepared. You're up against far more than you can handle on your own. Take all the help you can get, every weapon God has issued, so that when it's all over but the shouting you'll still be on your feet. Our struggle is not against the people you can see, but against the rulers, authorities, the powers of this dark world and against the spiritual forces of evil in the heavenly realms.
Truth, righteousness, peace, faith, and salvation are more than words. Learn how to apply them. You'll need them throughout your life. God's Word is a mighty weapon not to be taken lightly. In the same way, prayer is essential in this ongoing warfare. Pray hard and long. Pray for your friends and family. Keep your eyes open. Keep each other's spirits up so that no one falls behind or drops out. 
The Armor of God
Put on the full armor of God so that you can take your stand against the devil's schemes, so that when evil comes, you may be able to stand your ground.
Picture yourself putting on:
1. The Helmet of Salvation
My acceptance of Jesus as Lord Savior Son of God saves me. John 3:16 tell me so. Have you accepted Jesus?...Really? Re-claim and celebrate your salvation. Let Christ give you his mind and thoughts
2. The Breastplate of Righteousness
Get right with God by confessing any sin. Ask Jesus to make you more like Himself.
3. The Belt of Truth
Ask Jesus to show you the truth about yourself and about God. Ask Jesus to help you know if you are hearing His voice or the voice of another.
4. The Sandals of Peace
Exhale fully and breathe in the Peace of God. Ask the Holy Spirit to show you anyone you need to forgive and get right with. Forgive them and seek your forgiveness.
5. The Shield of Faith
Picture yourself with a mighty shield that stops doubt and temptation right in their tracks. Remember, your faith can begin really small, God will grow it for you.
6. The Sword of the Spirit
The Word of God found right inside your bible. Read it, and remember as much as you can. Take the sword to cut yourself free from anything that restricts you from living in faith and health. Praise God for His Word, in the Bible and in life.
7. Pray in the Spirit
Let the Holy Spirit lead you in worshipping God Pray for your friends and family and for others God brings to mind.
---
Love Letter from God
My Child...
You may not know me, but I know everything about you.
Psalm 139:1
I know when you sit down and when you rise up.
Psalm 139:2
I am familiar with all your ways.
Psalm 139:3
Even the very hairs on your head are numbered.
Matthew 10:29-31
For you were made in my image.
Genesis 1:27
In me you live and move and have your being.
Acts 17:28
For you are my offspring.
Acts 17:28
I knew you even before you were conceived.
Jeremiah 1:4-5
I chose you when I planned creation.
Ephesians 1:11-12
You were not a mistake,for all your days are written in my book.
Psalm 139:15-16
I determined the exact time of your birthand where you would live.
Acts 17:26
You are fearfully and wonderfully made.
Psalm 139:14
I knit you together in your mother's womb.
Psalm 139:13
And brought you forth on the day you were born.
Psalm 71:6
I have been misrepresented by those who don't know me.
John 8:41-44
I am not distant and angry,but am the complete expression of love.
1 John 4:16
And it is my desire to lavish my love on you.
1 John 3:1
Simply because you are my child and I am your Father.
1 John 3:1
I offer you more than your earthly father ever could.
Matthew 7:11
For I am the perfect father.
Matthew 5:48
Every good gift that you receive comes from my hand.
James 1:17
For I am your provider and I meet all your needs.
Matthew 6:31-33
My plan for your future has always been filled with hope.
Jeremiah 29:11
Because I love you with an everlasting love.
Jeremiah 31:3
My thoughts toward you are countlessas the sand on the seashore.
Psalms 139:17-18
And I rejoice over you with singing.
Zephaniah 3:17
I will never stop doing good to you.
Jeremiah 32:40
For you are my treasured possession.
Exodus 19:5
I desire to establish you with all my heart and all my soul.
Jeremiah 32:41
And I want to show you great and marvelous things.
Jeremiah 33:3
If you seek me with all your heart.
Emergency Numbers
These are more effective than 911
When...
You are sad, phone
John 14
You have sinned, phone
Psalm 51
You are facing danger, phone
Psalm 91
People have failed you, phone
Psalm 27
It feels as though God is far from you, phone
Psalm 139
Your faith needs stimulation, phone
Hebrews 11
You are alone and scared, phone
Psalm 23
You are worried, phone
Matthew 8:19-34
You are hurt and critical, phone
1 Corinthians 13
You wonder about Christianity, phone
2 Corinthians 5:15-18
You feel like an outcast, phone
Romans 8:31-39
You are seeking peace, phone
Matthew 11:25-30
It feels as if the world is bigger than God, phone
Psalm 90
You need Christ-like insurance, phone
Romans 8:1-30
You are leaving home for a trip, phone
Psalm 121
You are praying for yourself, phone
Psalm 87
You require courage for a task, phone
Joshua 1
Inflation's and investments are overwhelming, phone
Mark 10:17-31
You are depressed, phone
Psalm 27
Your bank account is empty, phone
Psalm 37
You lose faith in mankind, phone
1 Corinthians 13
It looks like people are unfriendly, phone
John 15
You are losing hope, phone
Psalm 126
You feel the world is small compared to you, phone
Psalm 19
You want to carry fruit, phone
John 15
Paul's secret for happiness, phone
Colossians 3:12-17
Opportunity to discover, phone
Isaiah 55
To get along with other people, phone
Romans 12

Alternate Numbers
For dealing with fear, call Psalm 47
For security, call Psalm 121:3
For assurance, call Mark 8:35
For reassurance, call Psalm 145:18

FEED YOUR FAITH, AND
DOUBT WILL STARVE TO DEATH.


I AM(what does Gods word say?)


1. A child of God (Romans 8:16)
2. Redeemed from the hand of the enemy (Psalms 107:2)
3. Forgiven (Colossians 1:13,14)
4. Saved by grace through faith (Ephesians 2:8)
5. Justified (Romans 5:1)
6. Sanctified (1Corinthians 5:17)
7. A new creature (II Corinthians 5:17)
8. Partaker of His divine nature (II Peter 1:4)
9. Redeemed from the curse of the law (Galatians 3:13)
10. Delivered from the powers of darkness (Colossians 1:13)
11. Led by the Spirit of God (Romans 8:14)
12. A son of God (Romans 8:14)
13. Kept in safety wherever I go (Psalms 91:11)
14. Getting all my needs met by Jesus (Philippians 4:19)
15. Casting all my cares on Jesus (I Peter 5:7)
16. Strong in the Lord and in the power of His might (Ephesians 6:10)
17. Doing all things through Christ Who strengthens me (Philippians 4:13)
18. An hear of God and a joint heir with Jesus (Romans 8:17)
19. Heir to the blessings of Abraham (Galatians 3:13,14)
20. Observing and doing the Lords commandments (Deuteronomy 28:6)
21. Blessed coming in and blessed going out (Deuteronomy 28:6)
22. An heir of eternal life (I John 5:11,12)
23. Blessed with all spiritual blessings (Ephesians 1:3)
24. Healed by Jesus stripes (I Peter 2:24)
25. Exercising my authority over the enemy (Luke 10:19)
26. Above only and not beneath (Deuteronomy 28:13)
27. More than a conqueror (Romans 8:37)
28. Establishing Gods Word here on earth (Matthew 16:19)
29. An over-comer by the blood of the Lamb and the Word of my testimony (revelation 12:11)
30. Daily overcoming the devil (I John 4:4)
31. Not moved by what I see (II Corinthians 4:18)
32. Walking by faith and not by sight (II Corinthians 5:7)
33. Casting down vain imaginations (II Corinthians 10:4,5)
34. Bringing every thought into captivity (II Corinthians 10:5)
35. Being transformed by renewing my mind (Romans 12:1,2)
36. A laborer together with God (I Corinthians 5:21)
37. The righteousness of God in Christ (II Corinthians 5:21)
38. An imitator of Jesus (Ephesians 5:1)
39. The light of the world (Matthew 5:14)
40. Blessing the Lord at all times and continually praising the Lord with my mouth (Psalm 34:1)